The Cajasol Foundation supports the fifth edition of the National Trade Fair on Wine, FENAVIN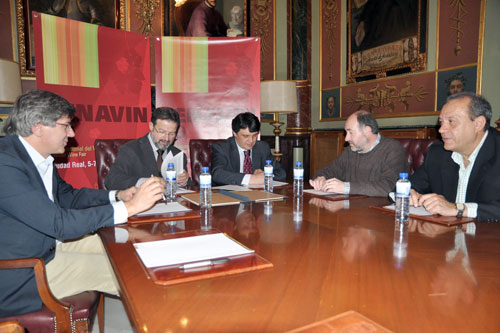 This week the Director of the institution's Castilla-La Mancha area, Enrique Pantín, has signed an agreement of collaboration with the President of FENAVIN and of the Provincial Government of Ciudad Real, Nemesio de Lara Guerrero, by means of which the institution will contribute with 45,000 Euros to the development of FENAVIN
25.04.2009 |
The Cajasol Foundation comes to add its support to the National Trade Fair on Wine, FENAVIN, by means of the signing of an agreement between its main representative in Castilla-La Mancha, Enrique Pantín, and the President of FENAVIN and the Provincial Government of Ciudad Real, Nemesio de Lara, through which the institution will contribute with 45,000 Euros to the development of different activities during this Trade Fair, which will take place in Ciudad Real from May 5th to the 7th.
During the signing of the agreement, event that took place at the Provincial Palace, the trade fair's Institutional Coordinator, Ángel Amador, was also present, along with the trade fair's Managing Director, Manuel Juliá. De Lara pointed out that "for Ciudad Real it is a great satisfaction that institutions from other regions, as in this case, an Andalusian institution, will be backing-up our trade fair from the very beginning, which goes to prove the national spirit of the initiative that we are promoting".
On his part, after the signing, Pantín pointed out that "to sponsor an initiative of the relevance that FENAVIN has at this time within the national wine sector is absolutely fundamental". In his opinion, FENAVIN has proven its capacity to generate business, "which is very necessary at a moment for the sector as critical as this one, and all we can do is support a tool that is as efficient as this one", he sentenced.
Thus in this manner the Cajasol Foundation will be setting-up a 170 meter stand, with a spectacular design, located in the Ganímedes Pavilion, which will also hold four wineries, two from Badajoz and another two from Cádiz.