Unicaja renews its commitment to FENAVIN in order to work on different activities during the fair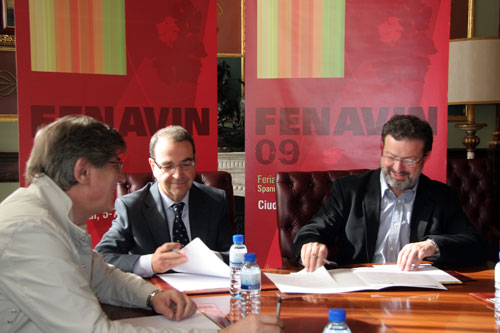 Ángel Amador, Luis Francisco Rodríguez and Nemesio de Lara during the conclusion of the agreement.
The bank will make a contribution of 12,000 euros
07.04.2009 |
This morning, the President of FENAVIN and of the Provincial Government of Ciudad Real, Nemesio de Lara, as well as the Regional Manager of Unicaja, Luis Francisco Rodríguez Ruiz, signed an agreement by which the organization renews its commitment to the National Wine Fair. Unicaja has been working with the trade show since the second fair in 2003.
Unicaja will provide the fifth edition of FENAVIN with the amount of 12,000 euros, which will provide sponsorship for a number of events and seminars during the wine trade fair.
The President of the Provincial Government, Nemesio de Lara, declared his satisfaction with the agreement. The fact that organizations like Unicaja work with FENAVIN year after year is something "that we consider to be a commitment to the development of both the industry and the region," stated de Lara.
Rodríguez Ruiz restated Unicaja's interest in supporting and participating "in an event as important as this, as an organization committed to the economic and cultural development of Ciudad Real province."