ASEVICAMAN held the award ceremony for the 3rd Contest on the Best Wines of Vinos de la Tierra de Castilla at FENAVIN 2007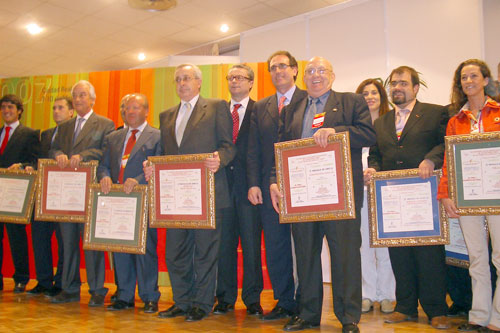 'Finca Marisánchez' of Bodegas Real, 'Montalvo Wilmot' of Soto La Toledana, 'Consigna' of Bodegas Félix Solís and 'Rosa Rosae' of Martínez Sáez obtained the Gold Medals
09.05.2007 |
The Regional Corporate Association of Wine Entrepreneurs of Castilla-La Mancha, ASEVICAMAN, held the award ceremony for the 3rd Contest on the Best Wines of Vinos de la Tierra de Castilla at FENAVIN 2007. 110 brands from more than 80 Castilla-La Mancha wineries were presented to the contest.
The awardees have been:
In more than 2-year old category: 1st 'Finca Marisánchez' (Tempranillo-Syrah and Merlot) of Bodegas Real; 2nd 'Tierras de Argumánez' (Merlot) of Viñedos y Bodegas El Castillo; 3rd 'Viña Aljibes' (Merlot, Cabernet) of Finca Los Aljibes.
The young red wine category went to: 1st 'Montalvo Wilmot' (Syrah) of SAT Soto de la Toledana; 2nd 'Casa de la Viña' (Tempranillo) of Domecq Wines España SA; and 3rd 'Cerrolomo' (Tempranillo and Garnacha) of Cooperativa Nuestra Señora de la Soledad.
In white wine category: 1st 'Consigna' (Chardonnay) of Bodegas Félix Solís SA; 2nd 'Requiebro' of Amadís de Gaula SL (Verdejo); 3rd 'Tierra de Vientos' (Airén) of Bodegas Altizia.
In rosé category: 1st 'Martínez Sáez Rosa Rosae' (Syrah) of Bodegas Martínez Sáez; 2nd 'Ilex Rosado' (Tempranillo and Garnacha) of Bodegas y Viñedos Castiblanque; 3rd 'Albaliza' (Garnacha and Cabernet) of Tikalo SL .
ALIPIO LARA: IN VIEW OF THE COMMON MARKET ORGANIZATION OF WINE, THE MORE UNITED WE ARE THE BETTER IT WILL BE FOR US
The Award Ceremony was coordinated by Rafael Puyó, Secretary of AVIMES and ASEVICAMAN, who highlighted the tremendous quality of the winners, most of which obtained between ninety and a hundred points from the Jury.
José Sánchez, AVIMES' President and likewise Director General of Vinartis, and Alipio Lara Director of IVICAM who presented the awards, was also in charge of congratulating the winners in the name of the Minister for Agriculture for the Regional Government. While in turn making it quite clear that the sector is now facing a very important challenge in the times to come: "We have a joint challenge before all of us, which is none other than the reform of the Common Market Organization of Wine, therefore, the more united we are the better things will be for us".
The Contest on the Best Wines of Vinos de la Tierra de Castilla is promoted by ASEVICAMAN in collaboration with Castilla-La Mancha's Department for Agriculture. This fact has represented a true milestone for the diffusion of varietal wines that designate the year and production system, and that due to their value for money have become highly appreciated wines for everyday consumption.