MANUEL JULIÁ, DIRECTOR OF THE TRADE FAIR, HAS BEEN CONDECORATED BY THE CASTILLA Y LEÓN WINE ACADEMY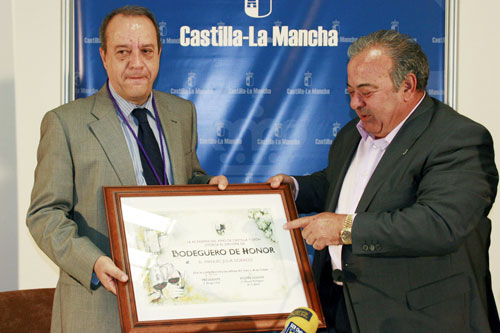 Manuel Rodriguez de la Iglesia, President of the Academy, also honored Rafael Díaz Salazar, Advisor for FENAVIN with a Diploma and Medal
09.05.2007 |
Today Manuel Juliá, Director of the National Trade Fair on Wine, received the Castilla y León Wine Academy Medal of Honor within the frame of the trade fair, the same from the hands of the Academy's President, Manuel Rodríguez de la Iglesia. Likewise, Rafael Díaz Salazar, Advisor for FENAVIN, has been honored with the Medal of Honor, highest distinction that this sector concedes.
Rodríguez de la Iglesia has said that "we created the Castilla y León Wine Academy 22 years ago when only Vega Sicilia and Protos existed. Many many anecdotes have taken place throughout these years". Amongst them he highlighted that "we used to send wine to His Holiness the Pope, who used to drink a drop of wine everyday and who even declared that "Wine opened the gates to heaven".
The President of the Castilla y León Wine Academy asserted that he is "a great defender of FENAVIN. I love these hard-working, spirited persons (referring to the two laureates), as unfortunately there are not many of them in the world. Thus, they find themselves in the position they deserve".
This award is granted to ten personalities from around the world every year. This year, amongst others, the former President of the Spanish Government and Director of the FAES Foundation, José Mª Aznar was one of the laureates.
They have been distinguished with the 'Honorary Wine Maker' Diploma of the Castilla y León Wine Academy "for their contribution to the culture of wine and of the land".
On his part Manuel Juliá has thanked the Castilla y León Wine Academy "for this important award. And as the saying goes "grateful must be the well-bred", I do indeed appreciate the constant support that this fair has received from your land (Castilla y León)".
Manuel Juliá also expressed his appreciation to Rafael Díaz Salazar, "because he is a man of wine, because he has battled out each and every one of the stages of wine. Because he involved himself in FENAVIN from the very beginning. Together we started to travel throughout Spain and in Castilla y León we had the opportunity to meet Manuel Rodríguez de la Iglesia, becoming good friends, and as of that moment his support and help have never been lacking".
He concluded by saying "as the true Manchego that I am, I deeply appreciate this diploma, which has been received before me by such important people".