VALUE FOR MONEY, GOOD PRESENTATON AND RATINGS, THREE IMPORTANT FACTORS TO SELL SPANISH WINE IN JAPAN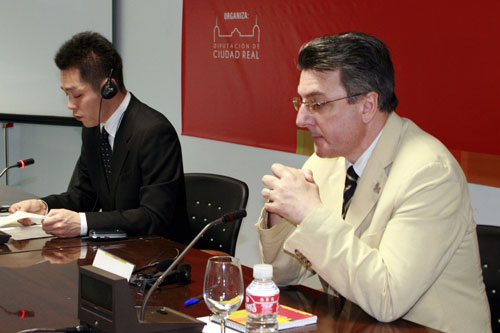 According to the Head of the Marketing Section of the Japanese company Mottox, Takeshi Kyoguchi
09.05.2007 |
Takeshi Kyoguchi, Head of the Marketing Section of the Japanese company MOTTOX has explained how to sell Spanish wine on the Japanese market. He has emphasized that the three most important factors to fulfill this objective are: good value for money, good presentation and good ratings.
Kyoguchi has made a brief description of what the situation of Spanish wine has been like in Japan during the last few years. In this sense he has informed that "annual consumption in the year 1998 was 2.7 liters and in 2005 2.4 liters. Thus a reduction of 4% since 2001. The red wine boom actually took place in the autumn of 1997".
He has also commented that in general in Japan there is less consumption of wine than there is in other countries. "Japan does not produce wine, however, wines from all over the world reach us. We have a small level of consumption, but with many varieties". "If a wine does not have a special characteristic, then it is not successful. It must have good value for money, a good presentation and excellent ratings from a third person, such as Parker for example. The latter is considered good criteria when selecting a wine", he added.
The Head of the Marketing Section of the Japanese company MOTTOX has declared that just a few years ago very few Spanish wines were actually known in Japan, as only a few great producers were importing them. However, in 1994 there was a surplus in stock and low and negative production conditions were perceived. The image of Spanish wines in Japan climbed again in 1996 and in 1997 a true red wine boom took place".
In part this boom was due to information about the "French Paradox" in the Japanese media groups and the beneficial effects of wine. "As of that moment, red wine sales started to grow at impressive speed. Importers had excessive stock and the image of bad quality Spanish wine disappeared. The only Spanish wines that were competing well were the lower priced ones", he has commented.
The Japanese lecturer has also made a brief summary of the current situation of the Japanese market. "In 2002 Mottox was lucky enough to break free from the previous situation. Our clients started to become aware of the good quality of Spanish wines. And Spanish wines were by then also receiving excellent ratings in specialized magazines".
FEEDBACK ON THE PART OF THE IMPORTERS AND CONTINUOUS IMPROVEMENT OF THE WINERIES
"In my opinion success in selling a wine depends on its presentation. Japan's current situation is very good because medium priced wines are starting to sell. As far as the future of Spanish wines on the Japanese market is concerned, he has repeated that the key lies in "a good value for money, a good presentation and marketing factors". Feedback from the importers is also necessary and continuous improvement of the wineries. He asserts, "the wineries that are supplying us are not raising the prices, even when sales are high".
In Takeshi Kyoguchi's opinion, the most successful wines are "fruity, full-bodied red wines. Although we do not really have a perfect answer for this question, neither pertaining to the palates nor to the presentation". "And referring to high priced wines, as yet we simply have no experience selling them", he pointed out.
He concluded his intervention by saying that "it is very important that the fame of Spanish wines continues to rise, even if this has been infrequent and rather late. I would truly like to support and make a special effort with all of you, with the producers".