THE SOUL OF WINE BY MANUEL JULIÁ, PERFORMED BY EMILIO GUTIÉRREZ CABA, CONCHA CUETOS, Mª JOSÉ GOYANES AND JOSÉ Mª ARCOS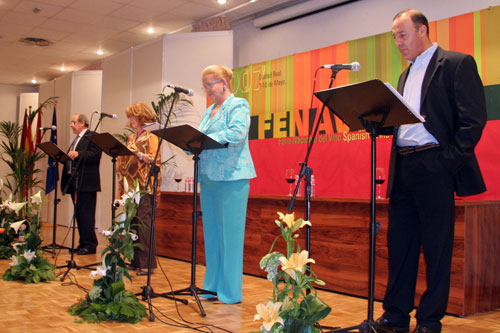 08.05.2007 |
The recital "El Alma del Vino" (The Soul of Wine), written by FENAVIN's Director Manuel Juliá, was performed before an audience of 300, all of whom enjoyed a glass of red Tempranillo wine from the Tierra de Viñedos Foundation. Four well-known actors from the world of theatre lent their voices to the performance: Emilio Gutiérrez Caba, Concha Cuetos, Mª José Goyanes and José Mª Arcos.
"El Alma del Vino", according to Juliá, "is not an anthology of literary texts with wine as the core theme. This has already been brilliantly done from many perspectives and by excellent literary reviewers such as Felipe B. Pedraza with wine inspired poetry in the Jardín de Baco (Garden of Bacchus) and by Miguel Angel Muro Munilla, with an excellent and extraordinarily well documented history on wine in El cáliz de las letras (The Chalice of Arts)".
The texts, by a diversity of authors, which are interspersed in "El Alma del Vino" are actually more related with the emotional impact "they caused me, rather than with any other type of academic consideration", says FENAVIN's Director in the prologue to the recital.
Juliá wrote this recital so that "the audience would feel integrated in a beautiful story in which the protagonist is the fruit of the land, the grape, and its transformation into a liquid that has moved humanity to such a point that practically all cultures have considered this liquid to be a special gift from the Gods or a pleasure that only they were worthy of enjoying".
The pretence behind the 1st part of "El Alma del Vino" is that the spectators "can take a trip through time and feel that what we call the culture of wine is in fact sustained in history, in humanity's logical aspiration to happiness…"
Those who love wine thoroughly enjoyed themselves with the recited texts. and amongst other reasons this was "because of the tremendous talent of the Thespians, national theatre figures and because of the backstitched texts of the great sages that await us along the way I have proposed", concludes Juliá.
The finale to the performance was a toast between the audience and the actors.