The Provincial Corporate Hotel, Restaurant and Tourism Association of Ciudad Real will be holding a meeting on the project "Better with Wine" at FENAVIN 2007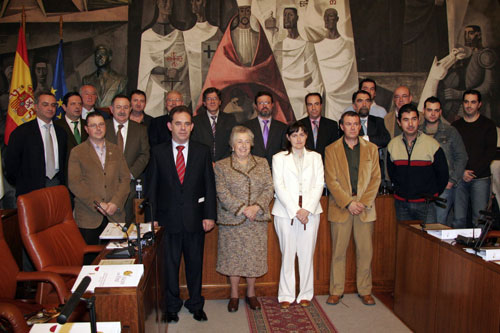 Within the frame of the National Trade Fair on Wine, that will take place from May 7th to the 10th at the Ciudad Real Trade Fair Pavilion
03.05.2007 |
The Provincial Corporate Hotel, Restaurant and Tourism Association of Ciudad Real will be holding a meeting on the project "Better with Wine" at FENAVIN-2007, National Trade Fair on Wine, to take place from May 7th to the 10th at the Ciudad Real Trade Fair Pavilion.
The program "Better with Wine" is an initiative that was created by CEOE-CEPYME more than a year ago, the same through the Provincial Hotel, Restaurant and Wine Industries Associations, and which takes place with the aim of increasing the prestige and image of wine in the Ciudad Real geography.
The project "Better with Wine" was devised to promote consumption of wine and, altogether, to strengthen and boost this sector. The Provincial Government of Ciudad Real supports this initiative, which consists in training instructors so that in turn they will train professionals whose activity is related with wine, in particular in that concerning consumption of wine in restaurants and hotels.
This project counts with three central themes: training, funding or equipping and diffusion. The first of these phases has currently concluded, therefore, the persons that have been trained are now ready to undertake the task of training the region's leading companies. Thus the training chain has started, chain that is expected to be profitable and that will contribute to reaching the objective for which the program was started, none other than "Better with Wine".
RESTAURANT ENTREPRENEUR RECOGNITION CEREMONY
Likewise the Provincial Corporate Hoptel Restaurant and Tourism Association of Ciudad Real will be hosting a recognition ceremony for the project "Better with Wine" to honor restaurant entrepreneurs, the same also within the frame of FENAVIN 2007. This is due to their special connection with the "Better with Wine" project and due to the consumption made by the different wineries that are registered in the project.
The laureate entrepreneurs are: José Macías Valls of the Restaurant Miami Park in Ciudad Real; Belén García Castro of the Mesón Restaurante Octavio in Ciudad Real; Javier Nuñez-Barranco of the Hotel Restaurant El Cruce de Manzanares; Montserrat Carazo of the Hosteria de Almagro Valdeolivo in Almagro and José Crespo Garcia of the Hotel Restaurant Casa Pepe de Carrión in Calatrava (Ciudad Real).
All of them will also be presented with a complete set of Cabernet glasses and decanters, as well as a temperature-controlled wine cabinet with capacity for 120 bottles.