UCAMAN will be holding a photographic exhibit that reflects the important role of Cooperative Wineries in Castilla-La Mancha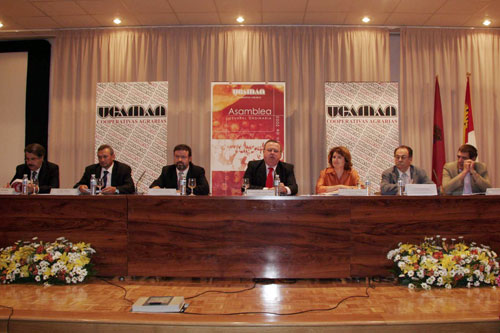 Within the frame of FENAVIN 2007, to take place from May 7th to the 10th at the Ciudad Real Trade Fair Pavilion
29.03.2007 |
The Association of Agricultural Cooperatives of Castilla-La Mancha (UCAMAN) will be holding a photographic exhibit that reflects the important role of cooperative wineries in the history of Castilla-La Mancha, the same within the frame of FENAVIN 2007, to take place from May 7th to the 10th at the Ciudad Real Trade Fair Pavilion.
UCAMAN will also be holding its Annual Assembly, at which they expect the attendance of more than 200 representatives from agricultural and livestock cooperatives covering all sectors of Castilla-La Mancha.
As has been habitual, the Action Plan for the year 2006 will be analyzed at this meeting, in which apart from promotion, representation and defense of agricultural cooperative movement, the idea is to improve efficiency of the services that UCAMAN provides for the cooperatives, thus helping them to be more competitive.
In like manner, the representatives of the region's agricultural cooperatives will analyze Management of the Executive Council and UCAMAN's Annual Accounts for the year 2006, as well as the Expenditure and Income Budget for the present year.
The work lines in the year 2006 have been sustained on the lines that had been designed through the Strategic Cooperative Movement Plan of Castilla-La Mancha. In such a manner that services provisioned through UCAMAN's different departments have been aimed in parallel fashion at promoting the following with its actions: industrialization and commercialization of member cooperatives; increase of its management and dimension model; promotion of rural development and of a cultural change between agricultural cooperatives, the latter mainly through training.
SECTORIAL COUNCIL OF WINE
Likewise the Sectorial Council of Wine for the Federations and Cooperatives of Spain will be developed. The wine sector representatives from each federation of cooperatives will come together at this national meeting to deal with, amongst others, matters related with operation of the wine market, situation involving private storage, as well as an analysis of the wine to be found in our market.
The second matter that will be dealt with is the situation of the COM, of which a new European proposal from the COM is expected by May 8, date when the Sectorial Council is to be celebrated. A project on technological audits in Spanish cooperatives will also be presented, the same aimed at improving quality and internal operation. Finally the matter of the vineyards in Spain will be covered: how to profit from the new quality brand, representing a new line of commercialization for wines.