ASEVICAMAN will be presenting the awards for the 3rd Contest on the Best Wines from Tierra de Castilla at FENAVIN 2007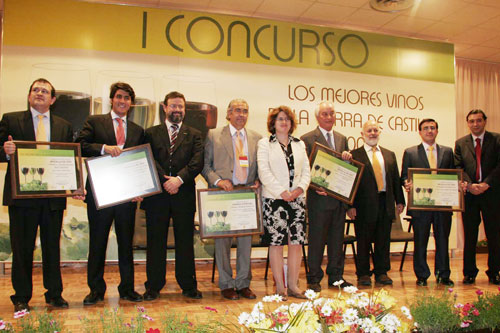 AVIMES, ASEVICAMAN and AEV will in additon be holding their Board Meetings, as is likewise the case with AEMZU's General Assembly
22.03.2007 |
The Regional Association of Wine-growing Entrepreneurs of Castilla-La Mancha, ASEVICAMAN, will be presenting the awards for the 3rd Contest on the Best Wines of Tierra de Castilla, within the frame of FENAVIN 2007, to take place from May 7th to the 10th at the Ciudad Real Trade Fair Pavilion.
The Contest on the Best Wines of Tierra de Castilla is promoted by ASEVICAMAN in collaboration with the Department of Agriculture of Castilla-La Mancha, resulting in a milestone given the promotion of this initiative for diffusion of varietal wines that designate the year of vintage and elaboration system. The result is that these wines have become highly appreciated for daily consumption due to their quality-price ratio.
This regional association celebrated the second edition of the contest, which obtained overwhelming success in participation and qualification. According to ASEVICAMAN's Secretary General, Rafael Puyó, "we must invest through the Department of Agriculture in the diffusion of our "Wines of Vino de la Tierra". We must request their support for this initiative that ASEVICAMAN is undertaking. The reason for this resides in the preservation and promotion of qualitative elaboration and commercialisation of this wine segment, production of which is like or superior in volume to all regional denominations of origin in their whole, apart from proven and extensive success on international markets".
PRESENTATION OF CEVINUM
Likewise presentation of the Viniculture Corporate Consortium of Spain will be taking place before the media: CEVINUM draws together the Wines of Spain (AVIMES), Musts and Grape Juices of Spain (AEMZU), "Musts, Wines and related Products of Castilla-La Mancha (ASEVICAMAN) and Vinegars of Spain (Spanish Vinegar Association - AEV).
Furthermore AVIMES, ASEVICAMAN and AEV will be holding their Board Meetings, while AEMZU (Spanish Corporate Association for Transformers-Marketers-Exporters of Musts and Grape Juices") and AEMZUCAMAN (Regional Association of Entrepreneurs of Musts and Juices of Castilla-La Mancha) will be holding their joint General Assembly.