Ribagorda: "An excellent meal would mean nothing without a good wine"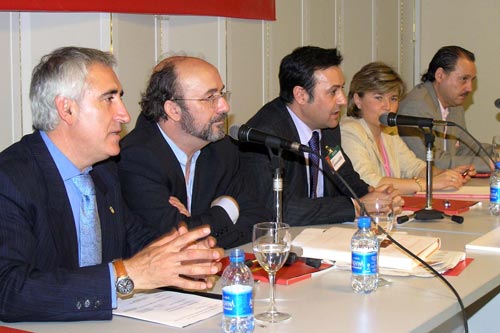 The TVE journalist, together with Lorenzo Díaz and the renowned restaurant and winemakers Adolfo Muñoz, Jesús Velasco and Ana Cantarero, culminate FENAVIN 2005 with a tribute to wine.
12.05.2005 |
The third National Wine Fair, FENAVIN 2005, culminated the program of parallel activities with a conference in which the journalist José Ribagorda, assistant director of the TV program Los Desayunos by TVE, and the journalist and writer Lorenzo Díaz, accompanied by Adolfo Muñoz, Jesús Velasco and Ana Cantarero, well known winemakers and restaurant owners in Castilla - La Mancha spoke at length about "the joy of life: a tribute to wine".
Ribagorda focused his speech on wine from a playful angle and as a warm and emotional tribute to chefs and winemakers who do their best to offer emerging quality wines. He praised the role of wine during a fortifying lunch or a good dinner and said the important thing is to learn about wines "but also to dignify the role of wine, from different viewpoints"
For the journalist, an excellent meal would be nothing without a good wine, without a perfect combination, from the sparkling wine to start with till the sweet wines to finish. For him wine is color, emotion, the antithesis of food, and all of it said in a brilliant and "even funny" way to enjoy the experience of wine and gastronomy professionals, and, of course, bystanders
Ribagorda who was present at the creation of FENAVIN, has seen how it has evolved positively and become " a point of reference for all wine lovers". The event meant getting to know new advances in oenology, and it was also an excellent showcase to make wines from Castilla - La Mancha popular, praise and promote them.
As for Lorenzo Díaz, National Gastronomy Award and author of various books about wine and gastronomy, he talked about decanting of wines from La Mancha, talking about wines from Membrilla, Valdepeñas, Ciudad Real as wines with a vital presence at Court and "wines from la Mancha have always been important in the kitchen" especially referring to the effect of globalization in our land. "Wine as an ingredient of pleasure is what we are claiming at this table" he pointed out, and he concluded the rules of the good drinker are "quality, calm and not to change".
For Díaz, FENAVIN has become the most important rendezvous in the wine world and culture in our country, this year going beyond the geographical boundaries of Castilla - La Mancha to become a national and international reference.
There were other famous participants at this round table, like Adolfo Muñoz, from the "Adolfo" restaurant in Toledo, and Jesús Velasco, from "Amparito Roca" in Guadalajara, as well as Ana Cantarero, oenologist and marketing manager for Bodegas Fontana which produces famous wines like "Quercus" and "Dueto".