COAG is in favor of a reform of the common organization of wine markets where quality and transparency come first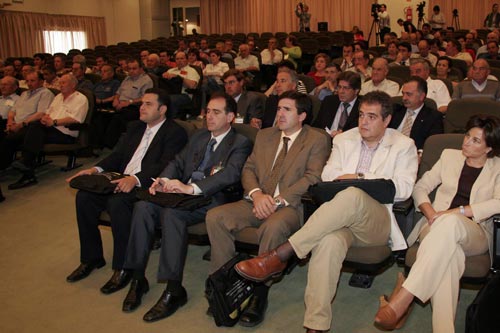 The Regional Minister for Agriculture, Mercedes Gómez, closed the Conferences
11.05.2005 |
The agricultural organization COAG-Iniciativa Rural de Castilla-La Mancha organized a round table in FENAVIN 2005 under the title "First stances of the Spanish wine sector facing the reform of the Common Organization of Agricultural Markets" in the Assembly Room of the Fair Pavilion, in cooperation with the Regional Ministry of Agriculture and the European Union.
During the round table the talks evolved around the new Wine Law and the making of a Strategic plan for the wine sector as well as the forthcoming reform of the Wine Common Market Organization. All these are important matters as they imply forthcoming changes for vine growing in Castilla - La Mancha and at national and European level. This is what Antonio Castellanos, general secretary of COAG - IR Castilla - La Mancha explained as he started the conference.
The following people participated in the round table: Castilla - La Mancha Provincial Government Member Antonio Salinas (spokesman for Agriculture of the Socialist Group - the Regional Assembly) and José Cruz Pérez Lapazarán (spokesman for Agriculture of the Grupo Popular in the Senate); Federico López, General Manager of Mercados Alimentarios de Castilla-La Mancha (Castilla - La Mancha Food Markets); Pau Roca, General Secretary of Federación Española del Vino (Spanish Wine Federation) (FEV); and Manuel Sánchez-Brunete, President of Comité Consultivo del Vino de la Unión Europea (Wine Consultative Committee of the European Union) and sponsor of the Fundación Castilla - La Mancha Tierra de Viñedos (Castilla - La Mancha Land of Vineyards Foundation).
Amongst the conclusions reached during the meeting, participants were unanimous in what concerns the forthcoming reform of the Common Market Organization, from the social viewpoint, as its impact on employment and establishment of the population is very important. They also discussed the positive side of the wine sector such as avoiding desertification in the south and the dragging effect in the north of Spain which is, of course, a major ecological benefit. Furthermore they added the wine sector is of vital importance for the Mediterranean diet and a source of health.
Amongst the objectives to be reached with the reform of the Common Organization for the Wine Market, for both producers and consumers, the important thing is that quality and transparency must prevail. In this respect, they will try to maintain, and even increase the budget, and will defend that if three years was the delay for other products like oil or beetroot, so it could be for wine.
Fernando Moraleda, secretary general of the Ministry of Agriculture, and Mercedes Gómez, Castilla - La Mancha Regional Government Minister for Agriculture closed the conference. They advocated an adequate reform of the Common Organization for the Wine Market with the presence of Castilla - La Mancha Autonomous Region in State Government negotiations with the European Union Agricultural Committee.