Talks: "understanding Japan and China, sell wine and keep friends" have been held.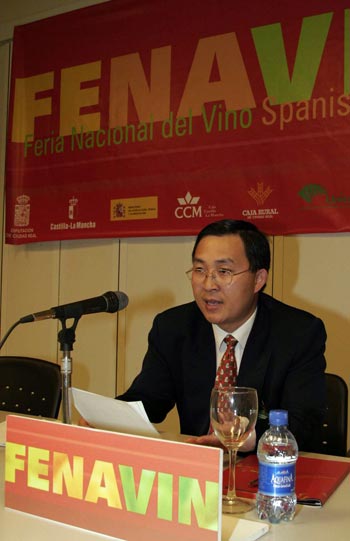 Chen Yu Zhai: for China, wine consumption is a symbol of health and we import 20% of our consumption.
09.05.2005 |
Some of the most advisable techniques to avoid misunderstandings in trade relations between Spain and Japan were the subject of talks chaired by the Spanish / Japanese translator and interpreter Sachiko Sawada during the seminar "Understanding Japan/China, sell wine" which was held this afternoon in FENAVIN. Later on, Chen Yu Zhai, from the Embassy of China in Madrid, stated that Chinese people believe wine consumption is synonym of health and that China import 20% of its consumption.
Chen Yu Zhai, Second secretary of the Embassy of China in Madrid, pointed out this Monday afternoon in FENAVIN how important it is to bring people together in order to create business relationships. He made it clear that "wine consumption in China is more and more deep-rooted and it is paramount to give a good image of Spain as a producer of quality wines from different provinces". He gave the example of Spanish wineries present in China like Félix Solís.
Yu Zhai stated wine consumption in the Chinese culture is a symbol of health and that 20% of wine consumption in China is imported, and here is where Spain has a saying.
IN JAPAN, TOTAL RESPECT FOR THE CONSUMER
Previously, Sachiko Sawada explained which aspects Spanish business people had to take into account when doing business with Japan. In this respect, the first meeting between the two companies is paramount and, for Japanese people, the business card is an extension of the company itself, and it must be handed over personally during a very formal encounter.
She also said potential Japanese customers must be shown objective company data such as sales, market share or products. This is the reason why it is recommended to show figures that demonstrate quality and competitiveness of the product, using charts and avoiding lengthy texts as Japanese efficient culture makes them flee from redundant explanations.
The Spanish business wine sector (wineries, exporters, etc.) present in FENAVIN and interested in the Japanese market must give accurate answers to the questions asked, prepare the agenda for meetings, and pay a lot of attention to thoughtfulness with potential customers, a quality much appreciated in the Japanese culture.
The Japanese market is very peculiar due to the high level of quality demanded by consumers, which has a lot to do with added value of the product. Therefore, business people wanting to sell in Japan must apply the Japanese scrupulousness to their know-how, being particularly careful with the after-sales services and permanently adapting to the Asian consumer taste, as opposed to companies where the mentality is to educate the customer. That is why; Sachiko Sawada said "a successful product in Spain does not necessarily work in Japan at the same time".
One of the keys to success for Spanish companies to penetrate the Japanese market is to deeply respect the consumer who, from the viewpoint of this ancient culture, is considered a true "God".